The Mushroom Cure in FringeNYC:
The Mushroom Cure Wins Overall Excellence Award for Solo Performance!
Time Out: ★★★★ "a true-life tour de force"
WNYC: A Top Pick of the Fringe
New York Times: "mines a great deal of laughter from disabling pain"
NY Theater Now: "highly intelligent, charming, and absorbing"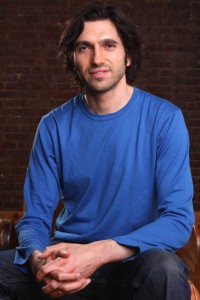 Adam Strauss's comedy has been called many things, mostly adjectives. He also writes stuff, including The Mushroom Cure and The Sordid Sex Life of the Montane Vole, two solo shows that premiered at the 2013 Edinburgh Festival Fringe. He won Leffe Beer's Craft Your Character storytelling competition and performs regularly at many of New York City's best comedy clubs, along with most of its worst ones. Adam rose phoenix-like from the hardscrabble, Volvo-lined streets of Newton, Massachusetts in the midst of that city's crippling hard cider epidemic, defying those who said he'd never amount to more than a cosmetic surgeon or corporate attorney.